This story is told by Lexi Aleksich.
It had been a month since we lost Piaggio. She was our third loss in a year and a half. It was a terribly sad time for us. Pickle had been 22. He died of old age. Lucy, 11, and Piaggio, 12, both contracted cancer and passed away too soon. These three had adopted me. All found their way to my house in Portland. All street kitties that needed a home. I provided them with food, water, safety, security and unconditional love which they returned ten fold.
After grieving for Pia, we decided we missed having that presence in the house. A home, in our hearts, always has pets! I had heard that the local shelter was having a "sale" on black and black & white cats; $5 each. All chipped, neutered/spayed and the first round of shots. How can anyone pass that up? They are always the hardest to adopt out due to people's silly superstitions. We weren't sure we were totally ready for a new family member but we wanted to go look. We rode our scooter, as an excuse, in our head, that if we were on the scooter we couldn't take anyone home that day.
We got to Friend's of Alameda Animal Shelter (FAAS), they had several litters of kittens. We played with them all to see if any personalities struck us. We decided to sleep on it and come back the next day. We discussed and agreed that we both liked an all black pair of siblings. The next day we went back to FAAS to adopt our new kids! Well, the black kittens had been adopted the day before so we looked at a few kittens from a black & white litter. This sleek little girl was rubbing against the cage door wanting all kinds of attention from my husband. Her very fluffy brother, however, was hiding in the back of the cage. We could not coax him out even for pets. There were several other from the same litter. Much more friendly and social but we decide because the little fluffy boy was so shy he might be looked over so we would adopt him and his sister.
After a couple weeks of hiding under the couch, these two have to become the most amazing cats. Friendly, social, chatty, very food driven and very loving. Walter, the fluffy boy, has gotten even FLUFFIER! And Miss Mira is my shadow. Following me everywhere.
Walter, is named after a kind Italian man that "adopted" my sister and me when we lived in Italy.
Mira, she likes to sit on her hind legs like a meerkat.
I understand people who are unsure about adopting pets – you don't know what you might get. Many pets come with "baggage" but these pets need a loving home, even more, I feel, than a pet you can order online and get exactly what you think you want. Consider adoption first. You will never regret saving a life and more often than not, they will save you as well.
Walter and Mira were rescued from the Alameda Animal Shelter.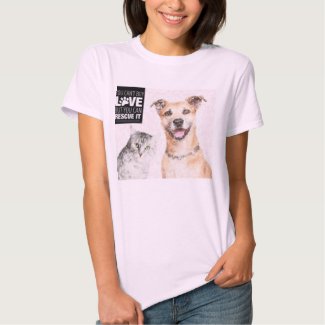 Adopt a Pet T-Shirt
by
Blasphemous_Tees
Make your own
t shirt design
at Zazzle